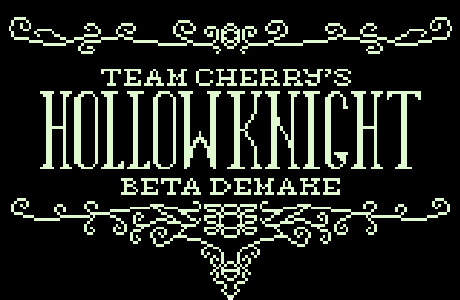 Hollow Knight Beta [Gameboy Demake]
An Unofficial free fan demake of the early beta build of Team Cherry's Hollow Knight. A new way to experience a masterpiece! Unofficially remade on the GameBoy.
Disclaimer:
I am in no way associated with Team Cherry, I am just a fan and an indie GB Studio Developer.
Hollow Knight is a property by Team Cherry. This is a free unofficial fan project and a love letter to the eternal masterpiece, Hollow Knight. Please support Team Cherry and their official titles.
This Fan Game is free to play, but if you want, please consider supporting me and my future projects by contributing to my other projects or by following me on itch or twitter.
I love Hollow Knight. This fan game is in development, and I am using GB Studio by Chris Maltby as an engine to make this game.
Follow me on my journey as we make this demake a reality.
Please support Team Cherry and their official titles.
Play the Demo
Controls
| | | |
| --- | --- | --- |
| Function | Keyboard | Console |
| Interact | W | Up Button |
| Focus | S | Down Button |
| Walk | A / D | Left / Right Button |
| Nail Strike | Z / J | A Button |
| Jump | X / K | B Button |
| Vengeful Spirit | Shift | Select Button |
| Access Map | Enter | Start Button |

Differences from the original game:
Played on GB Hardware/Web browsers
There are no Nail Pogo and Upwards Nail Swing mechanics in this game [I'm sorry, I do not know how to script such a mechanic in the current build (beta2) of GB Studio Engine]
Pixel art in the style of most MS-DOS games
Music is crappy/there are no SFX yet [I'm an artist so I don't have the knowledge to make music/bgm for this, let alone Gameboy specific .MOD files. You can help me make music though!]
No Geos [Currency] to collect or spend
No Charms/Nail Upgrades [Equip-able Power-Ups]
Only the early beta build is planned to release
Enemy Goams are changed to an original bug named Weelms [Due to actor size limitations, this is inevitable]

Enemy Husk Guards are smaller [Due to actor size limitations and max frame limits, this is also inevitable]
Boss before the Ancestral Mound is replaced [Yes, this is due to actor size limitations too]
Enemy Elder Baldur is only an obstacle and if player doesn't have enough soul to use Vengeful Spirit an original soul totem-like bug called Soul Seeds will be near their area

Soul meter [Soul Vessel] and Health [Masks] are limited [This is due to frame limitations and to simulate the illusion of a harder game]
Bosses Brooding Mawlek, Vengefly King and Gruz Mother have limited attack patterns and a remade [demade lol] Health pools
I plan is to remake the whole game now [all DLC except God Home] IF AND WHEN the higher beings at Team Cherry gives me a go signal. I have mailed them asking for their permission. They are entitled to request this page to be shut down if they want to.
Thank you for understanding.
Updates:
Added an option to disable Dirtmouth music. Just interact with the "King's Idol" near ElderBug and boom! Annoying music gone!