Hollow Knight Grab Grub
A free fan game of Team Cherry's Hollow Knight on the NES! Take control of a vessel and collect Grubs as per the royal decree of the Pale King! Rid Hallownest of these pesky worm and gain wealth and glory others can only dream.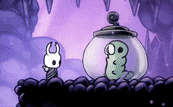 Disclaimer:
I am in no way associated with Team Cherry, I am just a fan and an Indie Game Developer.
Hollow Knight is a property by Team Cherry. This is a free fan project. Please support Team Cherry and their official titles.
This Fan Game is free to play, but if you want, please consider supporting me and my future projects by contributing to my other projects or by following me on itch or twitter.
Made with NES Retro Puzzle Maker. Try it out, make your own NES game without code and share them to the world. Join the fan discord and learn about NES development at https://discord.gg/PmagbmsE
Controls:
| | |
| --- | --- |
| FUNCTION | KEYBOARD CONTROL |
| Movement | Directional Keys |
| A | X |
| B | Z |
| Start | Enter |
| Select | Shift |
Warning:
This is an alpha build. As such, there's only 10 levels and there will be bugs.
Download
Click download now to get access to the following files:
Hollow-Knight-Grab-Grub.v1.nes
40 kB
Comments
Log in with itch.io to leave a comment.
Cool and cute! The graphics are great and the last puzzles have a good design :)
Cool game, now I know all about grub lore
t...dont think u can take this game as absolute grub lore tho, but THANKS FOR PLAYING xD
It´s really a cool game ! Congrats and thanks !
This is cool. I like your graphics
thanks! i like the graphcs on your wink nes too!
Nice work!
Just a heads up, but the background image on the itch page does not fill the screen. I think there is a "fill" or "fit" option in the page customization panel on the left.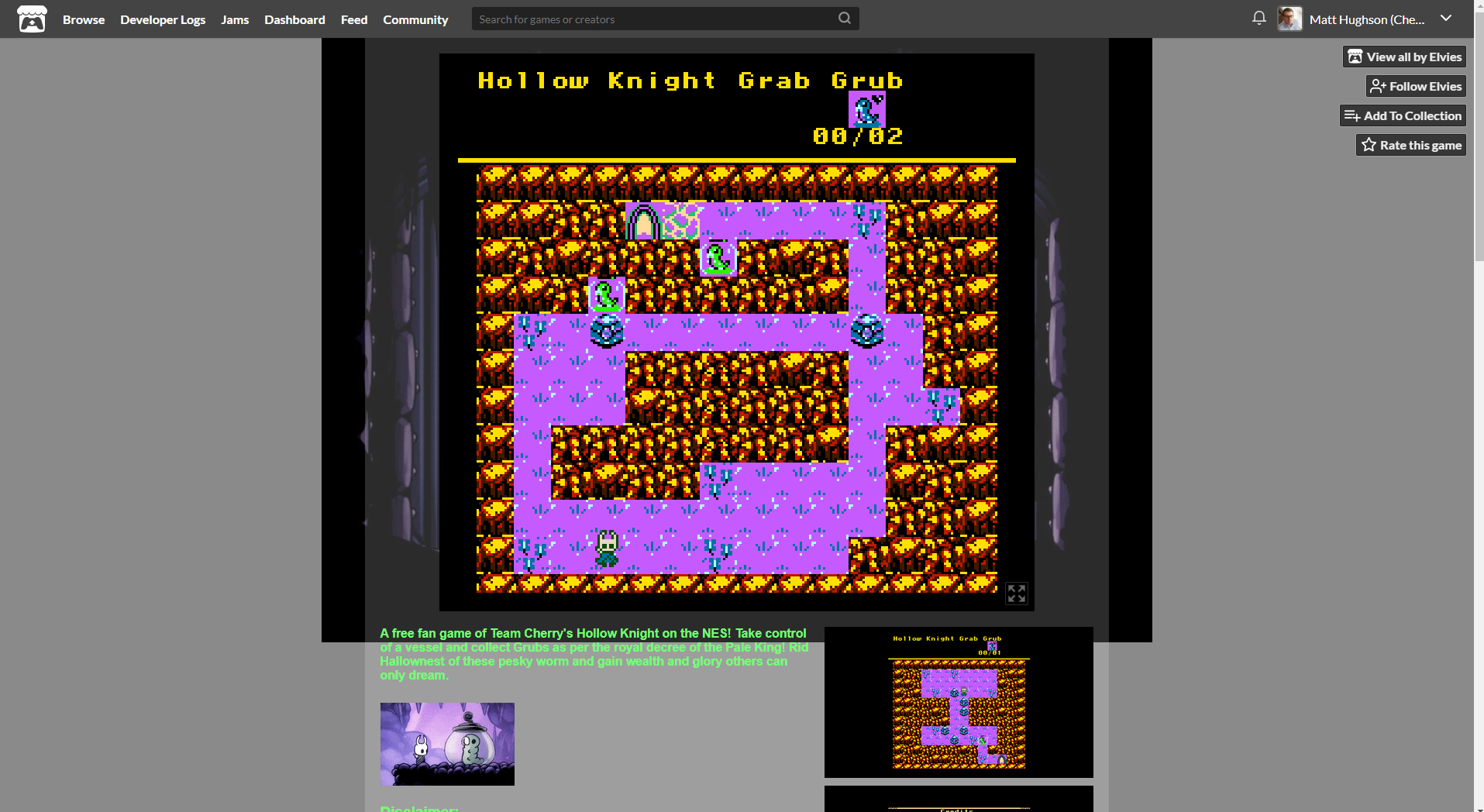 thanks! but the page is fine in my part, ill check it again.
It probably depends on your monitor resolution.
Great game! Loved to play =D
Ayyyy awesome stuff :).
Hadn't heard of NES Puzzle Maker 'til now also, gonna have to give that a looksie. Cheers for the heads up.
Aaaand finished, that was neat haha. Just downloaded the standalone version of the Puzzle Maker so keen to see if I can pop somethin' together.
engine still baby but its pretty awesome to know that its free, unlike some nes engines out there that charges for some reason
Had a quick look at the software last night, can already guarantee its a lot easier to use than some of the paid ones too haha.