Hollow Knight Sign Mender
An Unofficial free fan game of Team Cherry's Hollow Knight. A new game to experience starring Menderbug! An entry to the GBJAM9 [Can be played on browser and on Gameboy emulators / real hardware]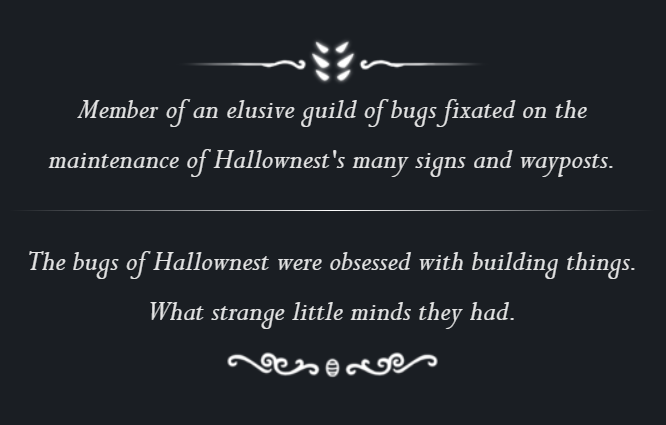 Disclaimer:
I am in no way associated with Team Cherry, I am just a fan and an indie GB Studio Developer.
Hollow Knight is a property by Team Cherry. This is a free fan project and a love letter to the eternal masterpiece. Please support Team Cherry and their official titles.
This Fan Game is free to play, but if you want, please consider supporting me and my future projects by contributing to my other projects or by following me on itch or twitter https://twitter.com/ELVIEStm.
Made with GB Studio 2 beta 5 by Chris Maltby.
Controls:
| | | |
| --- | --- | --- |
| FUNCTION | KEYBOARD CONTROL | CONSOLE CONTROL |
| Navigate Menu | W / UP | UP |
| Navigate Menu | S / DOWN | DOWN |
| Move | A and D | LEFT and RIGHT |
| Mend Sign [Cancel] | J or X | B Button |
| Jump [Confirm] | K or Z | A Button |
| Pause Menu | I or ENTER | START |
| N/A | L or C or SHIFT | SELECT |
Warning:
This is an alpha build. As such, the highest score you can get is 255, as I'm still working on the scoring system.
Comments
Log in with itch.io to leave a comment.
This is fantastic, really makes you f e e l like menderbug
hte only thing i know about hollow knight is this: GREAM.
The controls feel better than any platformer GB studio game I've played thus far, good job!
awww this is a really nice fangame! i enjoyed it a lot!
aaww this is such an adorable game!! i loved it
Oooo, on fire lately haha. Noice.